Upcoming Films
---
13 July - 9 August
Timecrimes 
In this thriller full of dark humor and bizarre twists, a man accidentally gets into a time machine, traveling back nearly an hour.  Finding himself will be the first of a series of unforeseeable consequences.
Directed by Nacho Vigalondo, Spain/2007, 92 minutes.  Rated R
---
15 June - 12 July
Magnolia
An epic mosaic of interrelated characters in search of love, forgiveness, an meaning in the San Fernando Valley.
Directed by Paul Thomas Anderson, USA/1999, 188 minutes.  Rated R
---
18 May - 14 June
Baby Doll
Tennessee Williams' black comedy is a steamy tale of two Southern rivals (Karl Malden Eli Wallach) and a sensuous nineteen-year-old virgin (Carol Baker).
Directed by Elia Kazan, USA/1956, 114 minutes.  Rated R
---
20 April - 17 May
Before Sunset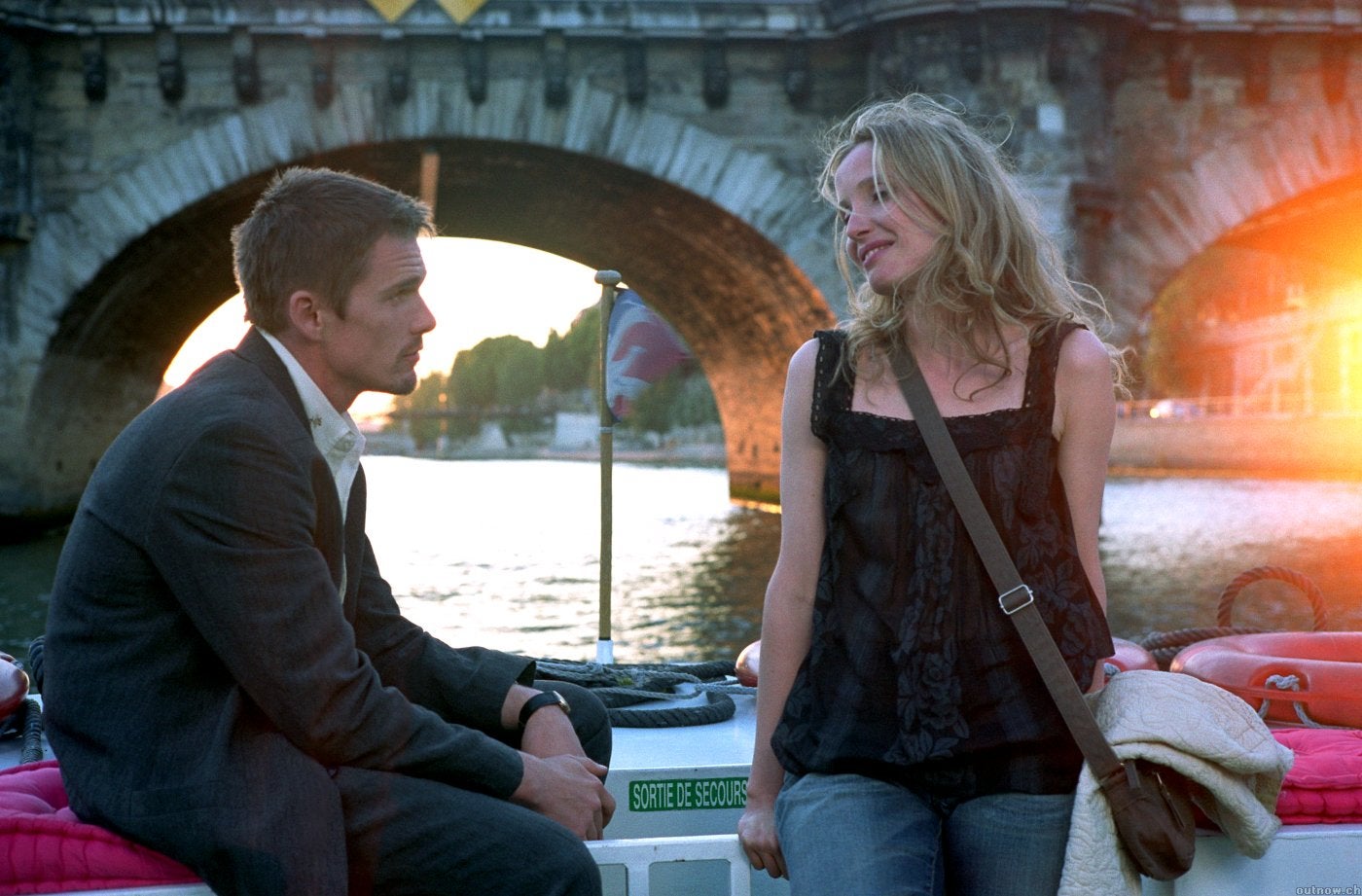 Nine years after a chance romantic encounter, Celine (Julie Delpy) and Jesse (Ethan Hawke) reconnect in Paris.  Unfolding in real time, this is as bright and naturalistic a love story as recent cinemas has to offer.
Directed by Richard Linklater, USA/2004, 80 minutes.  Rated R
---
23 March - 19 April
The Maltese Falcon
In John Huston's noir classic adaptation of Hammett's novel, Humphrey Bogart stars as San Francisco private detective Sam Spade, taking on a case that involves him with three eccentric criminals, a gorgeous liar, and their quest for a priceless statuette.
Directed by John Houston, USA/1941, 100 min. Not Rated
---
23 February - 22 March
The Iron Giant
In Brad Bird's first animated feature, a boy makes friends with an innocent giant robot from outer space that a paranoid government agent wants to destroy.
Directed by Brad Bird, USA/1999, 86 min. rated PG
---
26 January - 22 February
Caramel 
In this romantic comedy, a Beirut beauty salon serves as a microcosm of modern society in Nadine Labaki's look at liberated conversation in a conflicted society.
Directed by Nadine Labaki, Lebanon/2007, 95 min. rated PG
---
2 January - 25 January
Applause
Paprika Steen stars as a tough, successful, and alcoholic actress who divorced and lost custody of her children.  Post rehab, she must make difficult choices and prove she is worthy of having her sons back in her life.
Directed by Martin Zandvliet, Denmark/2009, 85 min. rated R
---
1 December - 29 December
The Outsiders
A collection of fresh and soon to be famous faces brings additional beauty to this melancholy story of Greasers and Socs (Socials), rival youth from opposite sides of the tracks in Tulsa, Oklahoma.  Based on the S.E. Hinton novel.
Directed by Francis Ford Coppola, USA/1983, 91 min. Rated PG-13
---